SimpleSHIELD Dental Facial Shield, 20/pkg (lead time - 1-2 days)
Manufacturer: Verena Solutions | Part #: SHIELD20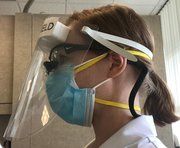 Image may not accurately represent item color or size. Please order based on item name and description.
$55.00
+$6.18 shipping
Sold by: Verena Solutions
Ships out in:
3 business days
Add $300 more for free shipping from Verena Solutions!
LICENSE REQUIRED
The SimpleSHIELD is a dental face shield design for wearing with dental loupes and respirators. Featuring FDA-approved foam, PET shield and latex-free rubber head strap the simple design allows for easy fitting and comfortable performance all day.
*comes with 4 additional foam stand-offs to extend shield for longer loupes and head lamps
Item Details